Friday evening saw the return of the prestigious VC Venta Awards Night!
It was great to be able to celebrate the achievements of fellow club members and to see so many people attending!
Without further ado, the winners of this years Venta Awards were...
Club Person of The Year – Stuart Gilmour

Stuart is the well-deserved winner of the Club Person of the Year. As we came out of covid he arranged a three-race park and ride crit series that was so popular riders were coming from as far afield as Wales and the Midlands to compete. Initiating a youth development centre to prepare our young riders for a return to racing and organising one of the club TT's in 2021 he was always an enthusiastic supporter of the other club and open events setting up courses and supporting the organisers on the day. A keen advocate of youth participation, the introduction of a youth newsletter and a willingness to share his knowledge with other parents whose children are coming in to cycle sport he has now volunteered to fill the vacant secretary role when Nick Alton decided he wanted to stand down at the end of 2021.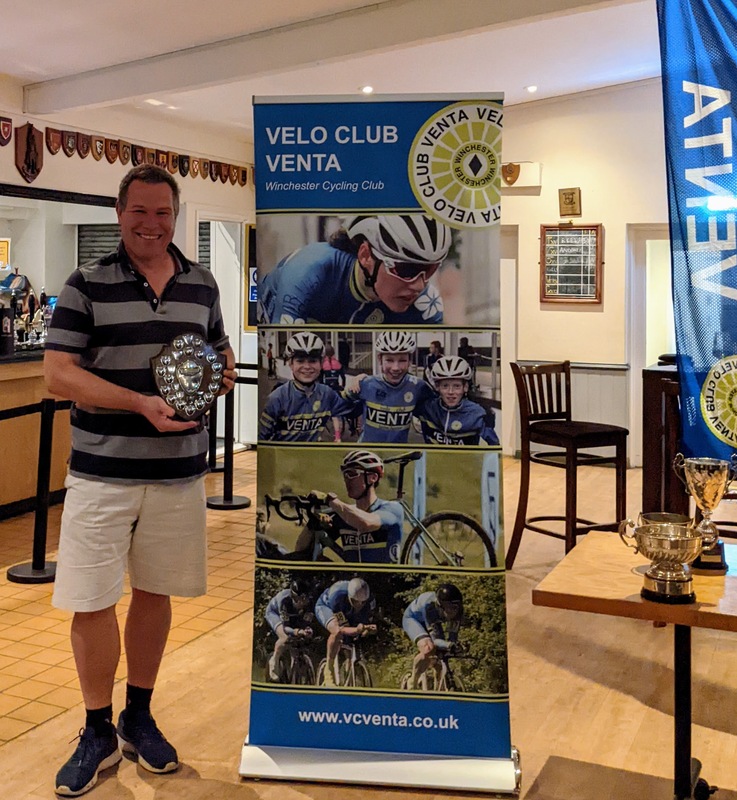 Young Club Person of The Year – Samuel Murphy
Samuel has raced a few cyclocross events over the past couple of years but his major contribution to the club has been through volunteering and supporting organisers at events. Samuel can always be relied upon to volunteer when organisers are looking for support having been a constant source of help at every round of the 2021 P&R crit series and several club TT's as well as our round of the Wessex League CX, marshalling and assisting with sign on. A quiet and unassuming young man who is currently away at South Shields Marine School with a view (I believe) to joining the Royal Fleet Auxiliary, Samuel is the kind of quiet willing volunteer that every club needs to deliver events.
Volunteer of The Year – Malcolm Cross
What is there to say. The ongoing infectious enthusiasm that Malcolm displays organising cyclocross training and off road rides throughout covid at Farley Mount when we were not allowed to access facilities elsewhere show the undying love for cycling that Malcolm possesses. His humour is infectious but his nurturing of our younger riders is especially evident but his support and encouragement cover everybody riding (especially) CX.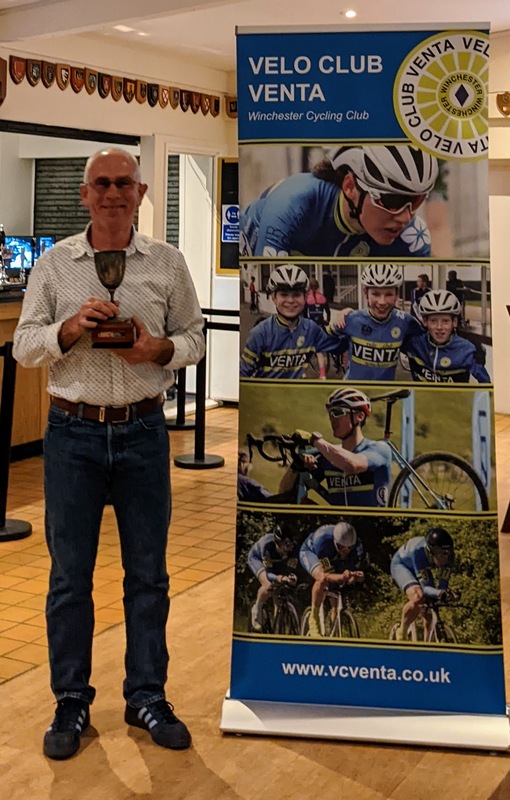 Best All-Round Rider – Ollie Winwood-Bratchell
Winner of the 2021 Best All-Rounder award is Oliver Winwood-Bratchell. Ollie sadly decided to leave Velo Club Venta in 2022 to race for the Primera race team in Bournemouth where he will be supported by a stronger team of 1st and 2nd category teammates. Ollie however deserves this recognition from the club having produced a string of top ten results in 2021.
Best All-Round Lady – Joanne Clarke
Another winner who has sadly decided to leave Velo Club Venta for pastures new in 2022 with the Stolen Goat Race Team, Jo rightfully wins the award for Best All Round Lady after a strong season of CX and MTB as well as some consistent road results with possibly 7th in a round of the Goodwood series or 5th at the Sotonia Summer Crit her strongest road performances of 2021.
Best Road Race Performance – Oliver Winwood-Bratchell
The undoubted winner of the single best Road Performance in 2021 goes again to Ollie. The only problem is choosing which from a series of strong results would stand out as his best. Take your pick VC Meudon Surrey Road Race 2nd, L'Etape de la Defonce 9th on GC, Verco Victor Berlemont RR 6th, Primavera RR 4th. I would probably suggest that the Primavera Road Race, an early season National B that attracts a top-quality field of domestic riders is the highlight and earns Ollie the award.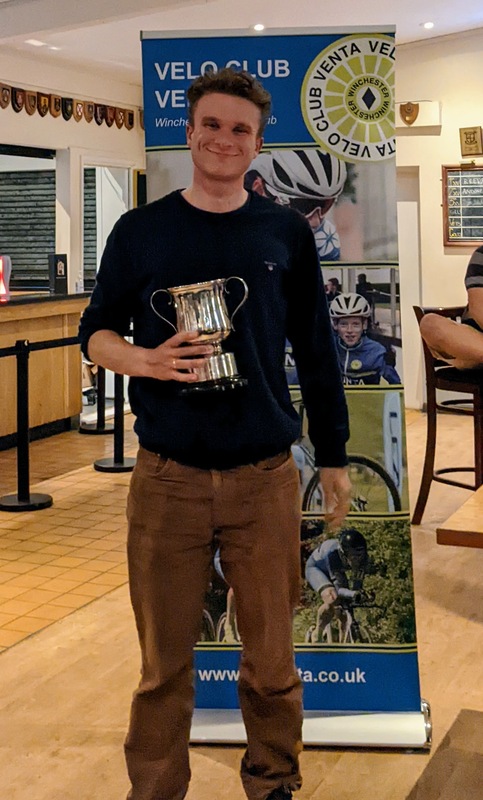 Team Support Crew of the Year – Andrew Cowie/Ben Gibbs

I am not sure any of us have lived through a period like we have encountered during the past two years with unprecedented restrictions on many of our movements due to covid. The Zwift Racing League set up in 2020 and continued during 2021 by Ben Gibbs and Andrew Cowie has seen a huge growth area of cycling within the club. At a time when many people were reluctant to leave their homes and when group cycling was prohibited Zwift has provided not only a competitive element to riding indoors but an important social aspect as well. ZRL is going from strength to strength with the ladies hopefully having a team in the 2022/23 season.
Broken Spoke Trophy – Andrew Cowie
One of the most keenly contested awards of 2021 there were a multitude of potential winners with Andrew Cowie finally taking the award that nobody really wants...
Matt Gilmour crashed four times in the space of a month including during the omnium at Bournemouth and the National Youth race at Hillingdon leaving him battered and skin peeling off of him like a banana.
Tina Webster ensures the ladies are represented in this category and Chris Hughes with spectacular injuries including broken bones and punctured lung spent several days in hospital but does not qualify as he was not on a VCV club run or competing at the time. We're glad to say all of those mentioned above are recovered and back out on their bikes.
Although not enough to win the award, the Hoult family deliver a classic tale of a bruising day at Odd Down which is worth telling and is summarised here in their own words;
"Simon has driven Oscar 100 miles for his first Crit Race at Odd Downs, on the second-hand Giant that the boy has bought for himself, having worn his parents down that he neeeeds a carbon bike. Talentless monkey that he is, before reaching the first bend of the first lap, Oscar is airborne. As luck would have it, the carbon bike angel is in town and swoops down, intercepting the flying Propel and placing it, unscathed, on the track next to the not-nearly-so unscathed boy. After due attention from the nice St John lady, and passing the thingy on his finger test, Oscar is let loose to re-join the race. DNF on his first race but enjoys some time on the track – bless, never mind the parental effort, it's just the taking part, right? In buoyant mood, taking the positives from the day and still grateful to the passing bike angel, Simon & Oscar make a late decision to stop for larger dressings as they are struggling to avoid getting blood on the car seats. Wife recommends the minor injuries unit but the boys are happy to DIY, it being 5.50pm and seizing the chance to get to the pharmacy before it closes at 6pm. In their haste they dash into the multi-storey car park and, in a blink, the bike, roofrack and car roof are re-modelled. The boys are very sad. The wife is less than impressed."
The awards committee finally decided to present the award this year to Andrew Cowie, aided and abetted by Marty Finnerty. The award to Andrew goes after he went "cartwheeling on a pothole in the Tuesday chain gang to avoid being dropped" breaking collarbone(s) in the process. To add insult to injury Andrew adds; "After riding in to me on the very first VCV club ride after lockdown, causing me to separate my collarbone, Marty (Finnerty) at least had the common decency to fall off himself, separating his own collarbone in the process".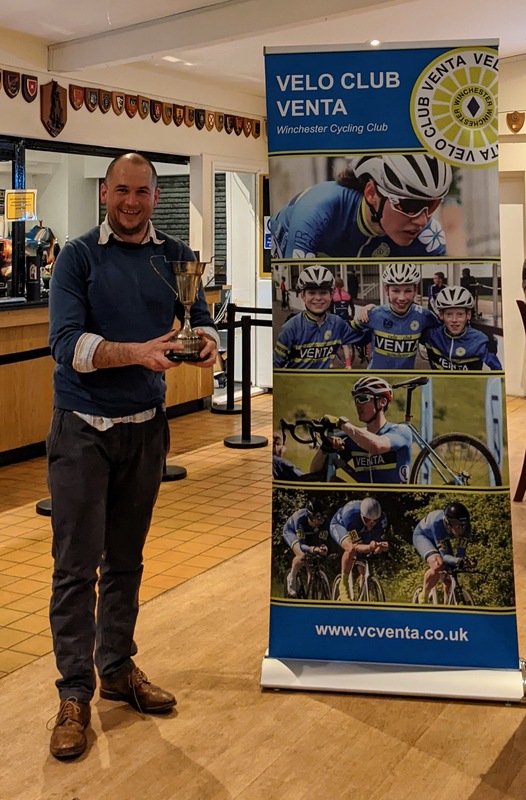 Junior/Youth Best Single Performance – Matthew Gilmour
Matt takes this award after he claimed his first National stage victory. Matt took the win in the prologue at the North West Youth Tour on an out and back course along Morecambe promenade in a field of 99 boys. Following his first podium only two weeks previously at Pembrey his first win in a stage of a National Youth race was probably the stand out single best youth or junior road performance of 2021.
Junior Road Race Champion – Matthew Gilmour
A whole host of podiums during 2021 saw Matt once again the outstanding youth or junior road racer although several others are certainly pushing hard, notably Alex Murphy. The season included victories at Odd Down, Morecambe, Portsmouth, Torbay as well as the National stage victory in Morecambe and two wins in Behind The Thruxton Bikeshed 3rd cat races riding on a youth dispensation. Matt was also selected along with Alex to represent the BC South Region at the prestigious School Games held at Loughborough in September.
Junior Track Champion – Alex Murphy
Alex has continued his development as a track cyclist during 2021 racing in the National Youth Omnium series and 42 Degree race nights at Newport. The gauntlet was laid down with Alex posting faster times in the 1km individual pursuit than Matt Gilmour at both Portsmouth and Palmer Park. In addition Alex was invited to ride as a guest for Worx cycle racing at The Friends of Herne Hill Youth Track Team Championships helping the team to 5th place as well as forming part of the four man BC South Region team at the School Games alongside Matt and two others. Alex is currently a guest rider with the British Cycling National School of Racing squad.
School Boy Road Racing Champion – Alex Murphy
Solid progress in road racing during 2021 saw Alex competing in several rounds of the National Youth Series as a first year youth A rider achieving multiple top 25's at Deux Jours de Londres, North West Youth Tour and Hillingdon. We look forward to seeing Alex challenging for top tens if not podiums at this years youth series.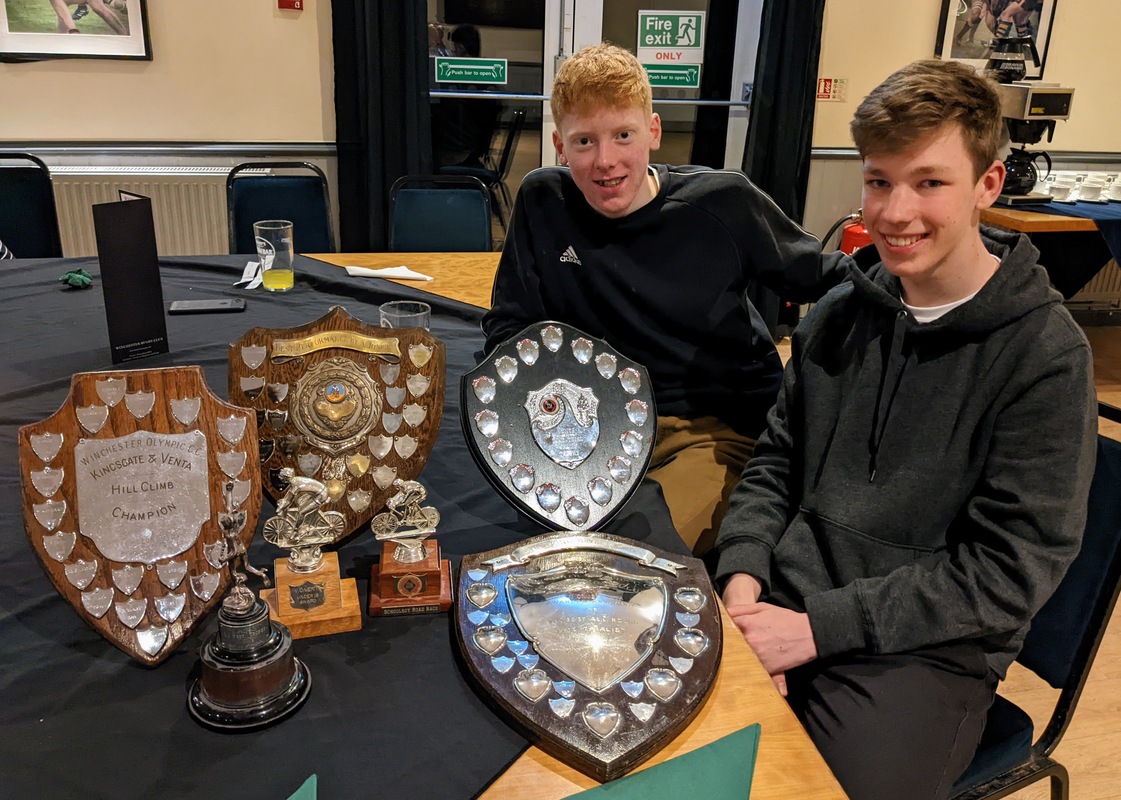 Cyclo-Cross Champion Male – David Spencer
Perhaps one of the toughest categories to decide with strong performances throughout the 2021 season from Jorge Ribeiro-Manso, Chris Hutchings, Pedro Hutchinson and Malcolm Cross amongst others, but probably the stand out male rider of 2021 was David Spencer with a string of consistent rides in the Miche Wessex League with no less than eight top ten placings including a win in round 13 at Southampton Sports Centre as well as 4th place in the regional championships at Bristol and 13th in the second round of the national trophy.
Cyclo-Cross Champion Female – Lydia Gould
A new but overdue award for 2021 is introduced to recognise the best female cyclo-cross rider and there is only one possible winner of the inaugural award, World Champion Lydia Gould. Lydia claimed the rainbow jersey winning the 2021 Masters Cyclocross World Championship 65-69 age group in the event in Suffolk in December 2021. Like Malcolm, Lydia continues to push the barriers in cyclocross showing that age is definitely not a barrier to racing hard while maintaining an enthusiasm and commitment to the sport.
MTB Muddy Wheel Trophy – Pedro Hutchinson
Pedro is a relatively new member of the club having moved to the UK from Singapore in 2020 with a passion for riding predominantly off road. A solid set of results in both the Southern XC series and the National MTB XC series with a best place of 19th in the third round of the National series and 4th place in the Central/Southern regional championships at Reading earn Pedro the MTB Muddy Wheel Trophy.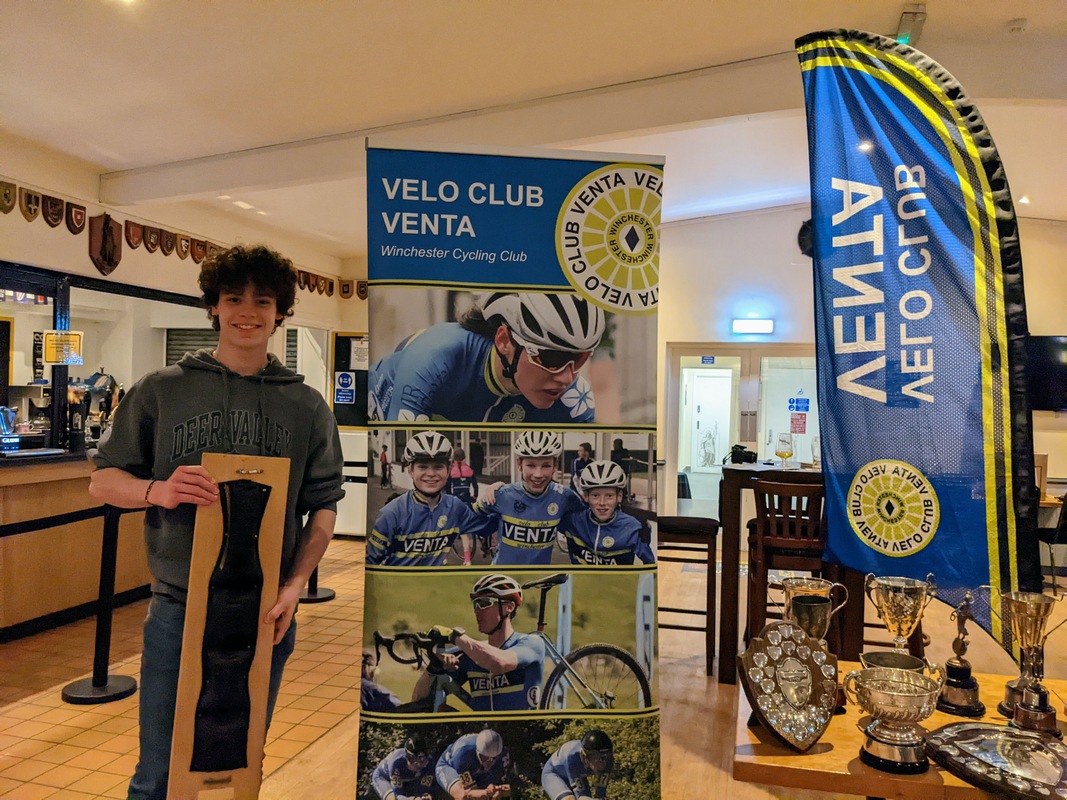 Time Trialist of The Year – Matthew Gilmour
Club time-trialist of the year goes to Matt Gilmour after he claimed the overall victory in the Spring Cup which is the South DC early season competition for road bikes. Riding at the time as a youth rider against juniors and seniors Matt became the first ever non A3crg rider to win the Spring Cup claiming 8th overall in the VC Venta 10, 2nd overall in the Rogate Rumble 10 and 5th overall in the Bournemouth Jubilee Wheelers 42km.
Time Trialist of The Year (Veteran) – Nick Tarmey
Nick had a ridiculous year on the time trial bike, generally concentrating on longer events. More later on about some of his individual efforts but Nick takes the trophy for his overall results of five top tens in time trials ranging from 25 miles to the ridiculous distance of 301.46 miles set in the National 12 hour.
Prix Du Grimpeur (Highest Col) – Ellen Bryson
Nominated by club riders the highest col claimed in 2021 was ridden by Ellen Bryson who rode the Col D'Iseran which tops out at 2764 metres. The climb that wins the award was just part of a complete cycling adventure for Ellen who writes;
"An epic bicycle focused adventure with five weeks in a VW campervan tour around France and Italy and while husband was mtb and wingfoiling I solo adventured with my trusty Liv...a few highlights were exploring Carnac in southern Brittany; cycle chateaux-wine tasting in Loire (husband joined for this!); climbing Col d'Iseran, and riding from Val d'Isere to Tignes; riding the Col de Joux Verte from Morzine via Les Lindarets with its many goats; commuting from Morzine to Annecy where climbing Semnoz (probably longest climb) was ticked off my list; touring the edges of Lake Garda - combined with an incredible parapent over the lake; before finishing with an epic climb and descent loop over Monte Alto from Finalborgo in the Italian Riviera."
VCV Strava Segment Of The Month Mens Overall Winner – Ben Gibbs
Competition in the mens VCV Strava Segment of the Month GC award was strongly contested with 2020 winner Ben Gibbs retaining his title and edging out James Cocker and Nick Barber.
VCV Strava Segment Of The Month Ladies Overall Winner – Vanda Jeffreys
Vanda claimed the VCV Strava Segment of the Month GC award with a string of consistent performances during the year long competition beating Joanne Clarke in to 2nd place and Jools May in 3rd.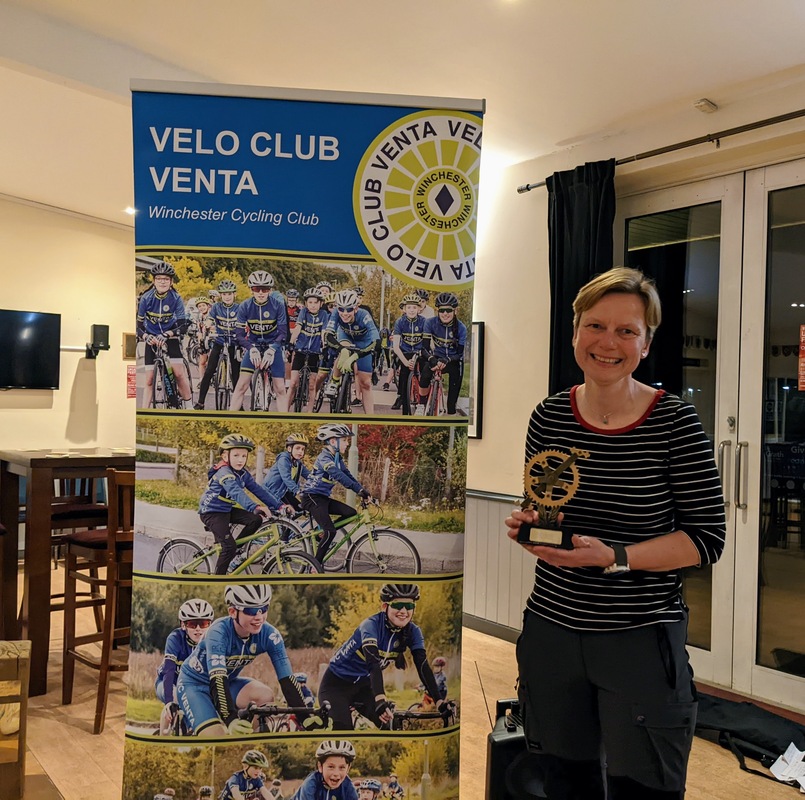 School Boy 10 Mile TT Champion – Bobby Buenfeld
Another tough category to select a winner with multiple riders representing the club in time trials during 2021 including Matt Gilmour, Alex Murphy, Pedro Hutchinson, Oscar Lawrence, Oscar Hoult Samuel Hughes but deserved winner is Bobby Buenfeld. Bobby was first juvenile at the South DC youth championship qualifying for the National final at Mallory Park where he finished 10th overall and 2nd in his age category. The national closed-circuit championship at Thruxton saw Bobby 13th overall but going one better to win the 14 year old age category. In addition a solid set of results in club and open time trials across the south make Bobby a really exciting TT talent to watch in 2022.
Go-Ride Future Champion Award – Oscar Lawrence
What do you say about Oscar. Buckets of enthusiasm and just constantly cheery Oscar took his first steps in to road racing in 2021 racing the P&R crit series and also his first national event at the Hillingdon round of the National Youth Series. Oscar also rode some time trials and cyclo-cross and has already proven in 2022 that he may be one to watch riding to a solo victory in a round of the Hillingdon Spring Series.
Most Improved Racer – Tom Smith
Tom deservedly wins most improved racer in 2021 after putting in some hard miles at Portsmouth, Thruxton and Hillingdon to secure his 2nd category licence for 2022. Multiple top tens (10 I think) saw Tom secure his second category licence with a 2nd place at Portsmouth Mountbatten in mid-August. We look forward to seeing how Tom continues to improve this season.
School Girl 10 Mile TT Champion – Isla Hoult
Isla perhaps first came to notice at the inter-club TT on the lumpy Nomansland course in the New Forest in 2021 when her gutsy ride contributed to a convincing club victory for VCV. Appearances in the club 10 series have well and truly earned Isla this award.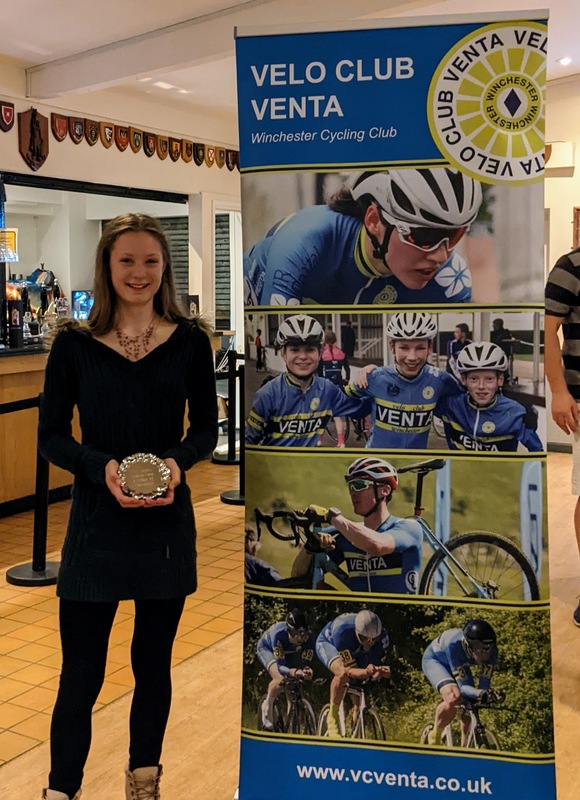 VCV Time Trial Series Trophy Ladies Winner – Rosie Geaves

The club 10 series in 2021 was hampered a little by poor weather and post covid restrictions but Rosie Geaves claims the Ladies overall series trophy twice coming home as first lady.
VCV Time Trial Series Trophy Mens Winner – Matthew Gilmour
Despite missing the first club 10 of the year Matt claimed an emphatic overall series victory winning the remaining four rounds. Matt claims his proudest moment of the series was taking the KOM (course record) from Paul Double on the Springvale/Micheldever course.
Club Hill Climber of the Year – Matthew Gilmour
The first VC Venta open hill climb for many years organised by Nick Tarmey also doubled up as the South DC hill climb championship. Outright winner and South DC hill climb champion was Matt claiming victory by a mere three seconds. Other Venta riders produced some excellent rides as well on the day with JP 4th, Alex Murphy 6th, Ben Gibbs 9th, Martin Evans 13th, Oscar Lawrence 17th and John Fradgley in 18th. If you were not there this was a fantastic event already planned to run again in September 2022!
100 Mile Mens Century Champion – Nick Tarmey
Nick Tarmey has dominated VC Venta long distance time trialling over the past few years riding two "hundreds" in 2021 setting a new club 100 mile TT record in the process with a time of 3h 32m 03s at the BDCA Championship in September. An average speed of 28.29 mph.
12+ Hours Against The Clock Trophy – Nick Tarmey
Another long distance time trial award goes to Nick Tarmey who riding in the RTTC National 12hr Championship in August set another club record achieving a distance of 301.46 miles, an average speed of 25.12 mph. The result saw Nick achieve 9th place overall from more than 50 riders.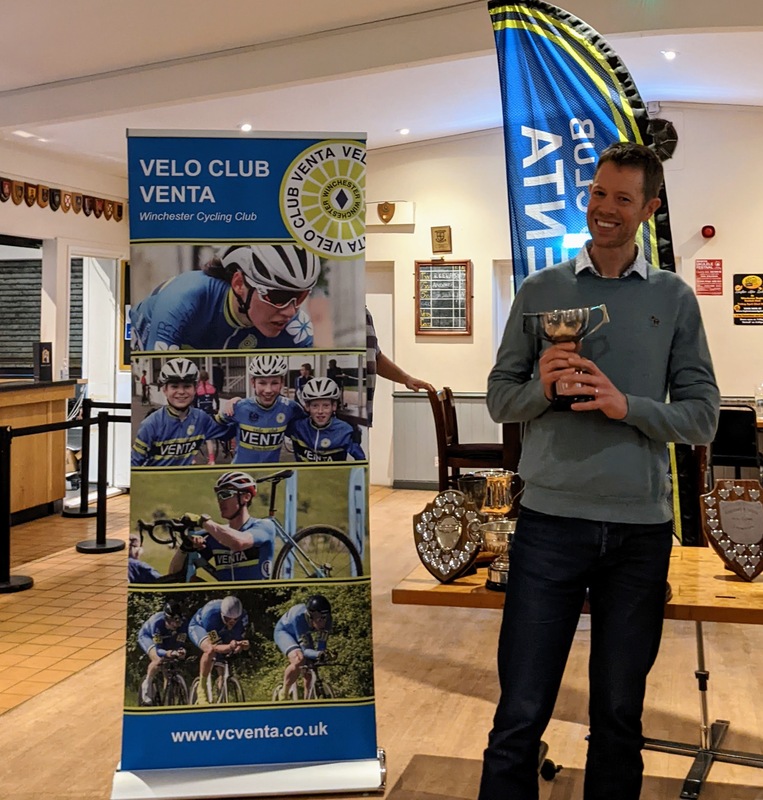 Grand Tour Adventure Award – Ollie Beresford
Another award nominated by the members with a couple of suggestions that the club training camp in Spain should win (but that was 2022 and the awards are delayed from 2021, maybe next year!) so Ellen Bryson whose adventures are detailed in the Prix du Grimpeur award above has made a strong challenge. Other nominees included team Hoult taking on the End to End but the overall winner for 2021 was Ollie Beresford. As one nomination said "literally pick anything he has done" Some crazy endurance rides including achieving the Festive Five Hundred in a day or cycling Edinburgh to London are two of the shorter efforts Ollie made in 2021.
Most Reliable Chain Gang Attendee – James Fox
The most reliable chain gang attendee goes again to James Fox just holding off the challenge of another perennial chainganger Ben Gibbs. Foxy is our very own version of Filippo Ganna putting out huge power and doing some serious turns on the front of the chain gang before (unlike Ganna) invariably blowing up in the final sprint.