The challenge of April's punchy hill sprint segment saw only 10 riders compete for places on the leader board. This has led to a number of place changes at the top of both the Women's and Men's GC tables.
In the women's competition, with only two riders posting efforts, Annie Dixey set the fastest time of 01:17 and took the full 15 points for first place. Vanda Kyselicova took the second podium spot and the accompanying 12 points with a time of 01:42.

In the men's competition, a couple of the top placed riders failed to post a time, meaning an opportunity arose for the chasing pack to capitalise. Michael Wise took first place and 15 points with a commanding and impressive KoM-matching time of 50 seconds. Very close on his heels, with a time of 52 seconds, James Locke took the second podium spot and 12 points. Last year's Men's champion Ben Gibbs rounded off the top three, taking 10 points with a time of 54 seconds.

In the Women's GC competition, Franie Ng has been overtaken by Annie Dixey, who now sits top of the table in first place with 51 points. Franie is close behind in second place on 45 points. Vanda Kyselicova remains in third place but has significantly closed the gap to second place, with 42 points.
In the Men's GC competition, the lead has changed for the second consecutive month. Dave Morris now tops the table on 42 points. Matt Gilmour remains on 38 points and by virtue holds second position. Last year's Men's champion Ben Gibbs is tied with James Locke in third place on 36 points apiece. Aaron Cooper and Michael Wise sit close behind in fifth and sixth place with 35 and 32 points respectively.

Congratulations for April to both Michael and Annie who both win the complimentary hot drink and cake from the South Downs Social café.

For May we travel South of the city for a well-trodden climb up to the top of Compton Hill.
Click the link here to take a look at May's segment: https://www.strava.com/segments/31654159

Results and position for April segment challenge:
Men's

Women's
| Position | Name | Time | Points |
| --- | --- | --- | --- |
| 1 | Annie Dixey | 01:17 | 15 |
| 2 | Vanda Kyselicova | 01:42 | 12 |
Current GC ranking

Men's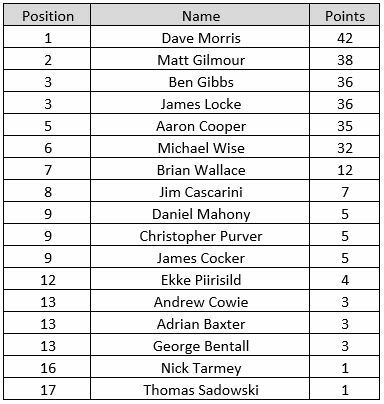 Women's
| Position | Name | Points |
| --- | --- | --- |
| 1 | Annie Dixey | 51 |
| 2 | Franie Ng | 45 |
| 3 | Vanda Kyselicova | 42 |