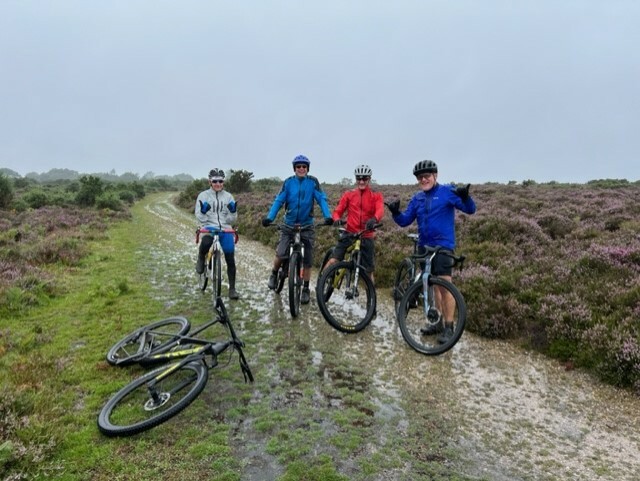 Billed as the Summer highlight of the Club's monthly Gravel ride's we were clearly in for a treat, right? I mean it is August: dry, warm, sun-kissed trails, the heather and gorse in full bloom and the omnipresent ponies enjoying the spoils of bountiful grazing. Wrong! Storm Antoni, the first the Met Office has named this season, brought unseasonably strong winds and heavy rain to Hampshire.
Both Paul and I could have been forgiven for calling off the ride and, to be honest, as we sat in the car at Janesmoor Pond our minds were set on a hearty full English at a convivial New Forest eatery rather than a 55km ride in somewhat challenging conditions! Any likelihood of breakfast was quickly dispelled by the arrival of Rob Tutt, Nick Ritchens and Paul Tugwell and after a brief chat it was obvious that the weather, if not ideal now, was bound to pass and conditions improve.
The route, designed by Paul O'Halloran and Rob Carter, was just over 55km with about 500m of climbing. Staying upright was a challenge, descending trails that resembled gushing streams was something else. The going was tough and it wasn't long before we were all covered in mud, grit and goodness knows what else – think ponies and cows. A discussion at 15km to shorten the route was met with incredulity – "the sun will be out soon, and conditions are bound to improve" convinced us that the full route was the only sane option!
Rob was in his CX element, perfecting his seamless dismounting skills as he won the contest to open the most gates - thanks. Nick definitely won the prize for the dirtiest rider, the back of his fashionably red top dirty brown and ready for drilling seeds.
Before long we were back at the car park some glorious but challenging 55km later. The weather did improve – just - the sun and blue skies were spotted – briefly. To celebrate surviving Antoni a cheeky beer was gratefully consumed – thanks Nick and Paul for the essential provisions – before heading back home.
Thanks to Rob, Nick and Paul for joining us on a truly epic ride - route link provided below - a must ride in the New Forest which, on a fine day cannot be bettered.
https://connect.garmin.com/modern/course/182110860
To locate Janesmoor Car Park use What Three Words /// evolution.hammer.overlaps
The next Club gravel ride will be on Saturday 2nd September.