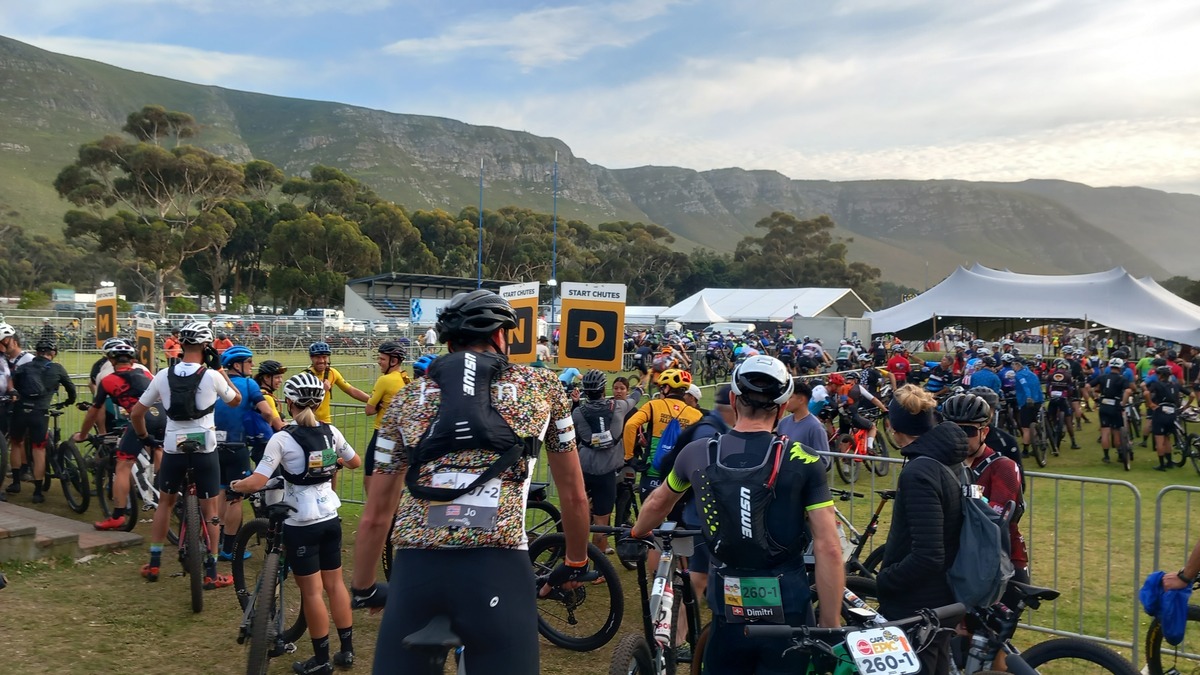 We love hearing about the challenges that our members and their bikes take on. Our Wessex CX League reporter Jorge Manso recently took on the challenge of the "Cape Epic" a seven stage South African MTB race. His diary of the event follows.
"End of March 2023 was time to live one of my dreams, to race the famous Cape Epic MTB stage race in South Africa.
After months of riding in the cold, doing long rides pre and post cyclo-cross races and riding the turbo in a shed with no proper ventilation, I got to Cape Town on 17th March to sun and warmth. My race buddy Mike and I stayed at an hotel in central Cape Town, as many other teams, the buzz was there and we were half excited, half apprehensive.
Registration day (Saturday 18th) gave us a feel for the size of the event and calm the nerves by pre riding the prologue. There is a lot of money put into this event and the several years they have been running it show by how smooth registration is and how many sponsor stands we see. Some might think we were overdoing it by riding the whole prologue, but that 2 hours leisurely ride was just the thing for me! I'm at the Cape Epic! For how many years had I dreamt of this!!! But I did realize I was very likely under biked for what was to come.
Prologue (Sunday 19th) 27km, 750m climbing - bus transfer early to the start meant we could see many other teams starting their races and at 9:27 we were off, we had our 10 seconds of fame courtesy of the live feed when some you were able to see me rolling out from the start arch. That 1st single-track climb was followed by a dodgy steep double track descent and then it all starts blurring! Plan was for fast but steady, not forcing the pace as the real race started on Monday! Felt like that was not the plan for most, it was go out guns blazing for several teams flying past. But we got to the end safe, no crashes, mechanicals or incidents. Goal achieved! Quick shower and off we were for our 2nd transfer of the day, this time 2h30 to 1st camp at Hermanus High School. There I would sleeping at the famous red tents (tent mat provided was ok but not luxurious, no extra items) and Mike had splashed out on a tent upgrade, where he had larger (twice the size) canvas tent with a dedicated plug socket, a camp bed and chair! There were also lots of camper vans and there are also b&b options if you can afford them and don't mind missing out on the race village atmosphere.
Stage 1 (Monday 20th) 98km, 2550m climbing - after a nice sleep on a beautifully manicured playing field I headed to the massive meal tent to meet Mike for breakfast at 5:30am. Bad news, Mike and a case of Delhi Belly and had spent most of the night racing to the toilet or vomiting his dinner! So skip breakfast and head to the medical tent! Some blood tests, decision made by medical team and Mike to not start as he was in no condition to be out there racing a bike... I was ok to start the day, but with no race buddy starting we were out of the race! That was it, got the IF sticker and started in our planned pen, but I should not interfere in everyone else's race and will no longer be in the classification. But hey ho, I knew I was never here for a win so brave face on and let's do this! A very lumpy day some many rough double tracks and singletracks, it was blowing a gale and for several times I just saved it from being blown to the ground. Good scenery, fun singletracks. Day one done! The storm was fierce enough that the big meals tent was deemed unsafe and we all had dinner and breakfast for the next 2 days in the half size staff tent, it was cozy!
Stage 2 (Tuesday 21st) 116km, 1850m climbing - this is it now, race is on, I hoped, but Mike wasn't any better... So he was out and I would be on my own for the rest of the week. From the profile I had decided that I should stay with the bunch as those flat kms at both ends of the day were not going to be fun on my own, on another windy day! And I did manage to hang on until it started going up, then decided I would take it easy and do my thing from then on. That did mean the wind would drain me on the final 36km, and by the finish I was a broken man. I had not been so tired for many, many years and Mike himself seemed a tad concerned as he had never seen me this broken!
Stage 3 (Wednesday 22nd) 100km, 2300m climbing - last night's sleep at Hermanus, we were heading to Oak Valley today and from yesterday's aftermath, survival mode was on! I'm no longer racing, all I can get is that finishers medal, take it down a notch and keep fuelling, not sure if from the effort or if I was also getting sick, food was not going down well... Bloatedness and some nausea meant I would quickly be getting into my reserves, if you have met me I don't have that many! So 3rd long day in a row with lots of climbing again. Slower pace meant it was more manageable but my stomach is definitely not good. Still, great scenery, good singletrack and a point to point day, that I do love.
Stage 4 (Thursday 23rd) 47km, 875m climbing, TT day - Mike has not improved from his illness so has decided to go back to a Cape Town hotel and get a proper toilet, good bed and try and rest and see if he can improve, as the medical have not been much help with treatment. From my end I couldn't care less about today, taking it as another recovery Day and trying to enjoy the scenery and trails. Leaving later and finishing earlier than any other day was great, but I'm still struggling with food. As Mike has vacated his upgraded tent I'm moving in. I had not sleep great as there is a large rut going though the line of tents I had picked the day before and the forecast is that we will be having a wet night. As we do, and by dinner time lots of the red tents are flooded in a big puddle that formed at the bottom of the field where they were set up, lots of riders had to decamp to the chill out tent or the rider bags tent to keep themselves and their belongings dry...
Stage 5 (Friday 24th) 100km, 2450m climbing, Queen stage - it had rained all night and the early groups still start in it, luckily the forecast says it won't be all day! Due to the weather the organisation had to take out a couple of km out and eliminate the 1st feed stop as they can't get there! It was wet and the 2 hardest climbs and descents of the day are rivers. You can't see what your wheel is getting into and you just have to play with your body and see what other riders and bikes are doing to guess what the best line is. On that 2nd descent the brakes sounded dodgy so I decided to change brake pads, glad I did as there was not much left. Fortunately the sky cleared and sun blessed us for the rest of the stage, still plenty of ground water... And the trails were faster, as I took nearly 4 hours for those first 40km! This was being called the hardest stage in Cape Epic history. At the end of the stage I changed pads again (front and back).
Stage 6 (Saturday 25th) 78km, 2300m climbing - the numbers made me think these 2 final stages would be easier and I thought that would make sense as there would be many broken bodies by then, but the weather did not make my life any easier... Overnight rain and heavy skies made me think this would be the queen stage. Many chose to start in short sleeves and regretted it, I had my proper waterproof and was still wet to the core in under 1 hour. Another clipping of the route and 1st water point moved from 30km to 10km in as once again the planned location is unreachable to the truck. The route description read gorgeous singletrack and swooping ascents, but with the water on them I was going to put my CX skills to good use. Slippery climbs, bogs on the waterlogged downhill berms, whitewater on the uphill singletracks and bikes being pushed up and down the mountains, either because there was to no grip or just wheels not spinning due to build up of mud. This was the only day my hardtail MTB was the ideal bike as I seemed to suffer less from the mud build up (or am I just better at riding mud due to years of CX!?!?). I would just say I would have not left my home for a ride in that weather if I was in the UK and for a few times I did consider taking to the road and head back to camp quickly. I did manage to convince myself to just speed up to warm up, get it done and head straight for a warm shower when I arrived, body warmth took priority over recovery meal! And blessed tent upgrade, more flooded tents today.
Stage 7 (Sunday 26th) 80km, 2400m - I did not wake up in a good state this day... pushed too hard and was too cold yesterday. And today would be longest end stage at the Cape Epic for many years, great! Stomach got worse, bowel not doing great either. Am I going to make today? Sun is out, I do have that, it is the last stage. Do I really want to go through all this again if I do not finish??? Start was 30 minutes later than normal as this last stage I supposedly faster (really, with this distance and climbing!). So I did drag myself to that start pen and as soon as the gun went I started going back through the groups as I dragged and coaxed myself to get it done! Luckily the tracks were faster than most week and the amount of people cheering ALL the riders on did make it difficult to find anywhere to disappear unnoticed from the track and pack it in. A few km of asphalt near the end felt like a blessing and those grassy fields at Val de Vie meant I had done it. A broken mess and sore all over but I had finished the Cape Epic!
I am quite proud of what I have achieved and will say this is likely the hardest stage race I have ever done (and I have done a few), probably not helped by losing my race buddy and my stomach problems. I would say the Cape Epic is a great challenge, harder than the numbers say as the surfaces are so rough. Take a full suspension MTB, sort your nutrition and go for the accommodation upgrades!
When is the next one???