Skip to main content
What is Go-Ride?
Go-Ride is British Cycling's development programme for young people and provides a fun and safe way to introduce young riders, aged 6 to 16 years, to the world of cycle sport. It looks to develop basic, intermediate and advanced bike handling skills. This involves games, skills, drills, group riding, close contact, race games and simulations.
Go-Ride Coaching Sessions
In 2021, subject to government guidelines, we will be running Go-Ride coaching sessions for 3 series: Spring, Summer and Autumn, with each series including 5 or 6 consecutive 1-hour training sessions on Sundays, from 4 to 5 pm.
Registration is required for each series and costs just £20 per rider per series. The sessions are held at the South Winchester Park & Ride, in a traffic free closed road circuit. Go-Ride is open to young riders aged 6 to 16 years, who will be divided into 5 groups based on age, skill and ability.


Dates for Summer Series 2021
Session #1 – Sunday, 13 June 2021
Session #2 – Sunday, 20 June 2021
Session #3 – Sunday, 27 June 2021
Session #4 – Sunday, 04 July 2021
Session #5 – Sunday, 11 July 2021
Session #6 – Sunday, 18 July 2021

Dates for Autumn Series 2021
Session #1 – Sunday, 05 September 2021
Session #2 – Sunday, 12 September 2021
Session #3 – Sunday, 19 September 2021
Session #4 – Sunday, 26 September 2021
Session #5 – Sunday, 03 October 2021
Session #6 – Sunday, 10 October 2021
Bookings for the Autumn Series will open later in the year.
---
Join Our Coaching Team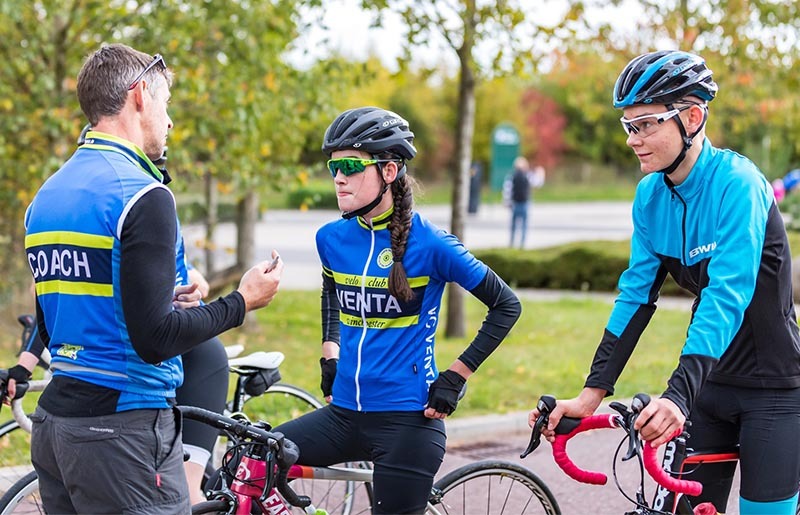 This year we are able to offer 75 Go-Ride places per series which is directly related to the number of volunteer coaches available. If you would like to train as a coach we'd like to hear from you. VC Venta provides free training to become a qualified British Cycling coach – and guaranteed free Go-Ride places for your children!
We're also looking to recruit a volunteer as the Go-Ride Co-ordinator, helping with the administration involved in setting up the coaching sessions. Again guaranteed free Go-Rides places come as a perk!
If you're interested in finding out more, do get in touch on [email protected].
---
What You Need to Know
Venue: Traffic free closed road circuit. South Winchester Park and Ride, Hockley Link, Winchester, Hampshire SO21 2FG (entrance is off M3 junction 11).
Timings: Sessions run from 4 to 5 pm and riders will need to ready to start promptly.
Age Groups: Aged 6 to 16. Generally based on ability with a skills development pathway to assist in progression.
Safety: Sessions will be run according to British Cycling guidance and details of our protocols will be sent to all parents/guardians.
Format: 1 hour structured coaching delivered by a range of qualified British Cycling Coaches. Followed by a short race around the circuit. We encourage arriving early to get a few extra laps in.
Equipment Required: Bike, helmet, gloves and a drink. It is also important to wear appropriate clothing for the weather conditions and suitable shoes such as trainers. No sandals or flip flops will be permitted. At the start of each session a bike check will be performed.
Cost: Each series costs £20 per rider. Full payment online is at the time of registration.
Contact: If you have any queries please email [email protected]
Registration: You'll need to complete a Go-Ride registration form to register your child.