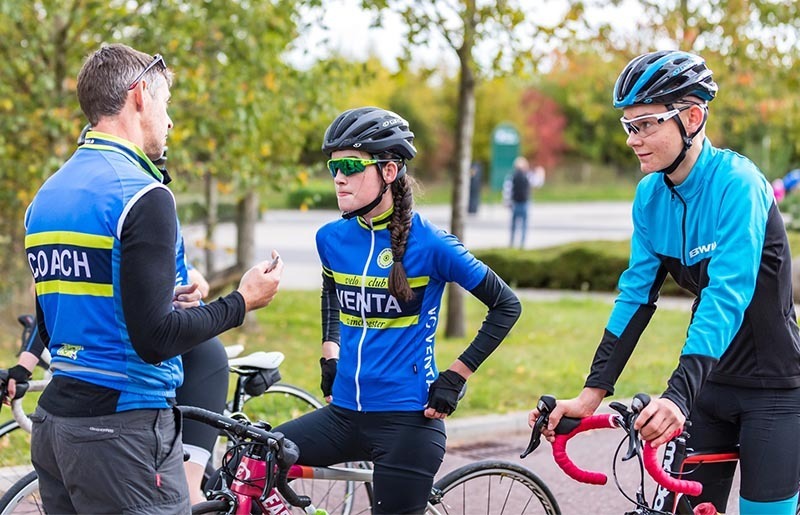 We are keen to develop the Go-Ride offer to encourage and coach young riders.
The heart of the club's success with Go-Ride has been the commitment of the volunteer coaches to create a safe and fun environment for the young riders to develop their skills, and to feel confident progressing to youth racing, Sunday club rides and chain gang rides.
All of the coaches would be delighted to share their experiences, and especially the reward of seeing the riders progress through the groups.
Please do get in touch and the support the club with with its coaching - it really is enjoyable!

Do I need experience competing to be a Go-Ride coach?
Not at all. All you need it bags of enthusiasm!

Do I need to be able to name all the parts of a bike?
The British Cycling course will teach you everything you need to know about the names for the various bike parts!
Does it take a lot of time to become a coach?
No! To become a British Cycling Level 1 coach requires 6-10 hours online learning with theory assessment, plus 2 days (generally split over consecutive weekends) of face-to-face learning with practical activities to experience delivering and participating in coaching sessions.

How much does the course cost?
The cost of the course is fully reimbursed by VC Venta - so, nothing!
Do I need any other qualifications?
Yes, British Cycling require that you have a valid DBS certificate and a current, appropriate First Aid Qualification.
Where can I get further information?
You can email

[email protected]

; grab one of the coaches at Go-Ride (we all had the same questions!); and the BC Website on this link to the BC Level 1 Coaching page.
How much time do I need to commit for the Sunday coaching sessions?
We are developing a full set of session plans for each of the 1-hour Sunday sessions to minimise the preparation time for the coaches. Generally, you will require about half an hour to prepare and then 1 hour to deliver the coaching on Sunday (and you are there anyway!).

Do I need to coach every Sunday?
The more coaches we have the less coaching for each coach! Of course, you are more than welcome to coach each Sunday too!
Can I help out first before deciding?
Of course! We all started out as 'parent helpers' supporting the coaches to deliver the coaching sessions. Do let us know if you would like to help in this way - just email

[email protected]

or grab any of the coaches at a session.